---
Aachen Maker Meetup
People Doing Strange Things with Electricity in Aachen
Funded by


To come to a meetup, just sign up for the event on our Aachen Maker Meetup page! This helps us order enough pizza and drinks.
What?
We attract DIY makers, designers, electronics hackers, artists, 3D printer builders, geek dads and their daughters—anybody from 9 to 99 doing strange things with electricity!
Our meetups are very informal. There's no membership, you can just show up, although we appreciate you registering via Meetup so we can order enough free food and drinks.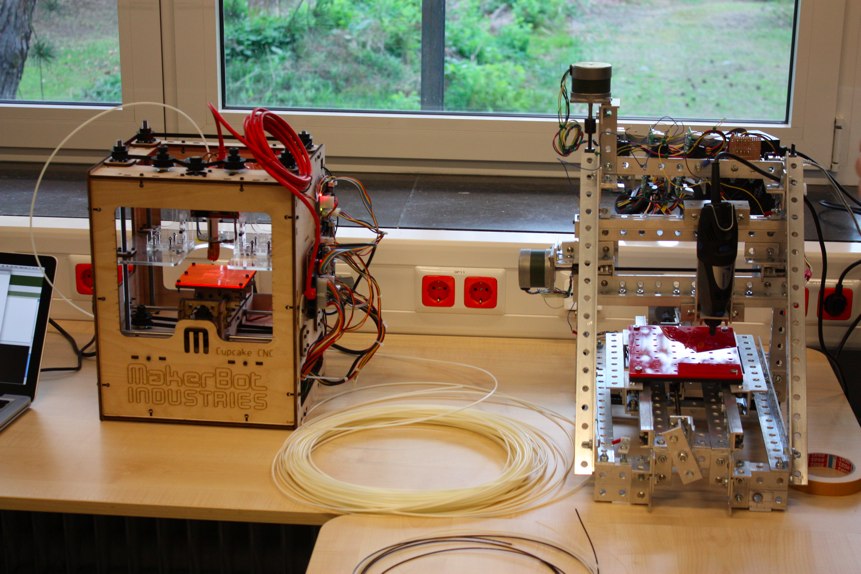 :) We get most people from Germany, but also the Netherlands and Belgium, thanks to Aachen's unique location, plus frequently other nationalities. If you speak German or English you'll be fine!
We get together, bring out our projects, have some soft drinks, eat pizza, and start tinkering or chatting with each other. Occasionally there's a short 10–20 min talk if someone wants to share something with everybody (or ask for help!). We've had some cool special guests like Tom Igoe, Mitch Altman, and Burkhard Kainka.
To see what to expect, check out our excellent meetup reports.
Any questions? Just contact Anke Brocker who will be happy to help!
Where?
See our directions to the Media Computing Group (Lehrstuhl Informatik 10 / Medieninformatik und Mensch-Computer-Interaktion) at RWTH Aachen University to find us. We meet in room 2222 on the second floor. Building doors are locked around 7 pm. Enter on Ahornstr. (close to the bus stop); there will be a sign on the door with a number to call, otherwise call +49-241-80-21060 for the phone in our meeting room.
When?
We usually meet at 6:30 pm on the third Wednesday of each month. We sometimes shift things around for special events. See our Aachen Maker Meetup page on Meetup.com for updates.
Next Meetups:
#123, Wed, Dec 18, 2019
#122, Wed, Nov 20, 2019
Recent Meetups:
#121, Wed, Oct 16, 2019: Aachen Maker Meetup in the DigitAC — Full Event Report
#120, Wed, Sep 25, 2019: The Birth of a Fablab adventure: A short interactive introduction to the text adventure creation tool Inform7 — Full Event Report
#119, Wed, Aug 21, 2019: Best of CHI'19: Prof. Jan Borchers summarized new user interface research on tools for makers and electronics — Full Event Report
#118, Wed, Jul 17, 2019: We celebrated the 10-Year Anniversary of our Aachen Maker Meetup with over 60 attendees, new fabbed electronic games, the FabScan Pi DIY 3D scanner, a DIY laser art installation, and the Greatest Hits and Misses of 10 Years of Aachen Maker Meetup. Founding Fab Lab manager René Bohne (now in Berlin, via video), serial inventor Mario Lukas, and maker publisher Volker Bombien from Bombini-Verlag were there, and we gave fabbed buttons celebrating the occasion as a gift to everyone attending. — Full Event Report
#117, Wed, June 19, 2019: Raf Verheyen gave an overview of 3D printing techniques in industry, and we tested a DIY art installation. — Full Event Report
#116, Wed, May 15, 2019: AR Sketching, AI, and Dandelions. We saw a demo of the ARPen (available on the iOS App Store!), Tanja Golinski talked about her Master Thesis about how Makers document, Andreas Schuderer gave us an Introduction to AI, and Oleksiy presented his wonderful interactive art project Field of Magic Dandelions. — Full Event Report
See more excellent event reports of our previous Meetups.
Who?
Who is the Aachen Maker Meetup? Here are a few people who show up frequently. Prof. Jan Borchers conducted the interviews during one of our meetups.
Mailing List
We announce our meetups on the Aachen Maker Meetup page (in English) and on our own low-traffic mailing list (in German).
History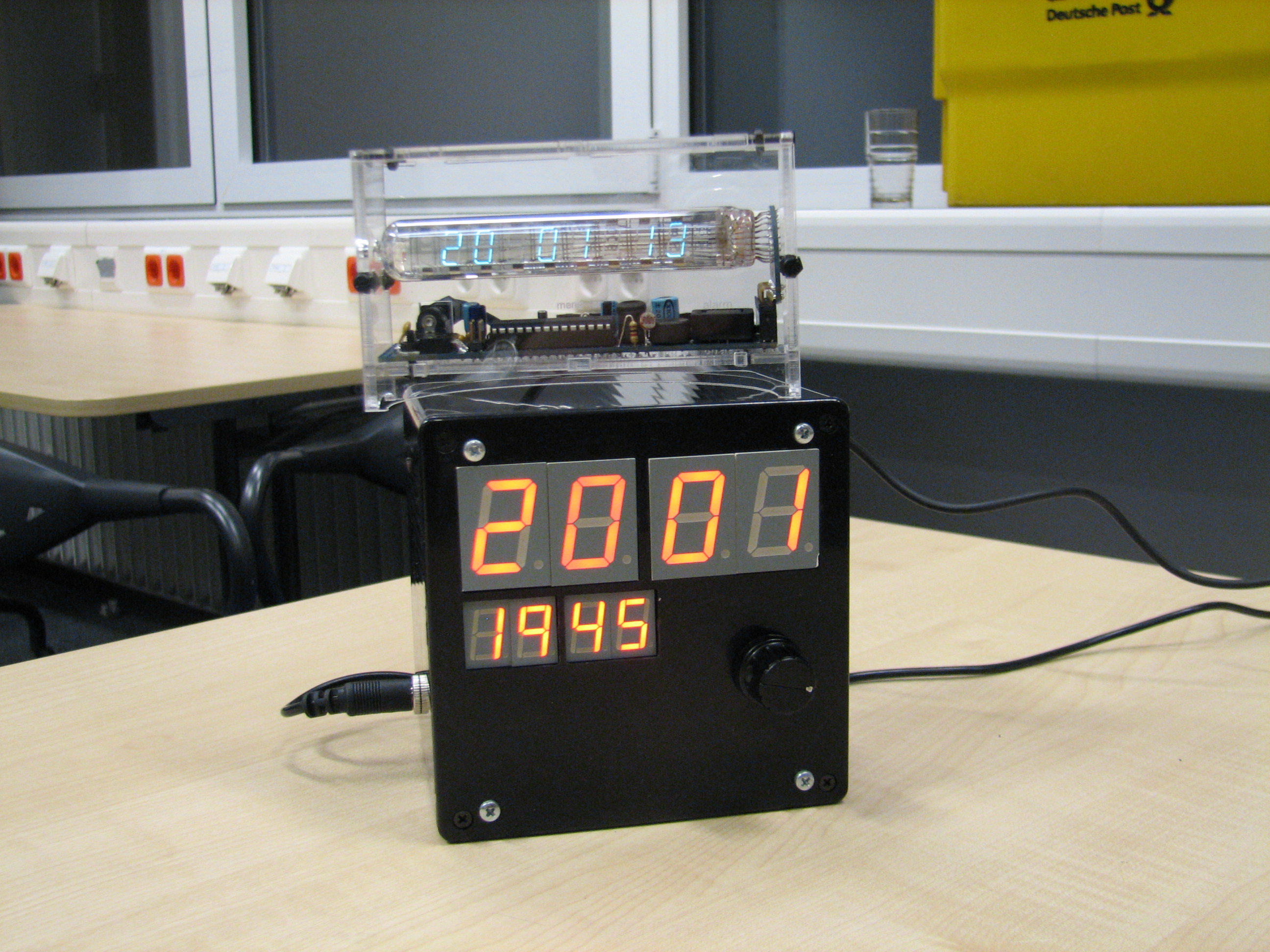 This meetup was originally started as Dorkbot Aachen, one of Germany's first Dorkbot groups, by Prof. Jan Borchers, his Media Computing Group at RWTH Aachen University, and an Arduino forum initiative. Our first meetup was on June 6, 2009. We have been meeting every month ever since, making us Germany's longest-running Dorkbot chapter. Dorkbot is an international network of people doing interactive art and electronic hacks. In 2018, we renamed our event to the more self-explanatory Aachen Maker Meetup, and expanded the event format thanks to funding through our 3D Competence Center research project. In 2019, this funding is coming from our BMBF Personal Photonics research project.
Media Coverage
Maker Stories, Conrad Electronic, filmed on Feb 20, 2019, TV report on our Meetup for Conrad's YouTube channel, in production
3D-Druck, ZDF logo!, filmed on December 18, 2013, show for children on national TV
Du bist die Fabrik, Süddeutsche Zeitung, April 10-11, 2010, national newspaper article
Dorkbot on TV, WDR, Lokalzeit Aachen, September 3, 2009
Related Projects
---

Aachen Maker Meetup administrative pages (for registered organizers)