---

I am the deputy head (Akademischer Oberrat) of the Media Computing Group at RWTH Aachen University. My work and research interests are in a wide range of topics within the field of Human-Computer Interaction (HCI), including but not limited to ubiquitous computing, personal fabrication, touch input, interactive surfaces, and tangible user interfaces.

Before I started as a researcher, I received a Ph.D (2016) and a Diploma (2010) in computer science at RWTH Aachen University.

For more details, take a look at my personal site: simonvoelker.net
I am also the coordinator of the board of examiners of the computer science department at RWTH Aachen University.
If you have any questions regarding the board of examiners please contact me via the online form of the computer science department.



Research Projects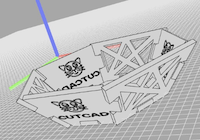 CutCAD - An Open-Source Tool to Design 3D Objects in 2D:CutCAD is an application to design 3D objects from 2D faces. It automatically aligns sides ans computes finger joints to connect the faces of the structure, which can then be laser cut and assembled for rapid prototyping. (read more)
Paper at DIS 2018.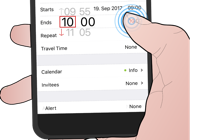 Use the Force Picker, Luke: Space-Efficient Value Input on Force-Sensitive Mobile Touchscreens: Value pickers on smartphone occupy significant gesture and display space. Instead, Force Picker allows for bidirectional force control to select values and requires no more space than the initial touch. (read more)
Paper at CHI 2018. Received Honorable Mention Award.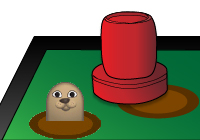 Tangible Awareness: How Tangibles on Tabletops Influence Awareness of Each Other's Actions: Players are significantly more aware of other players' actions using tangibles than those using pure multitouch interaction. (read more)
Paper at CHI 2018
Sketch&Stitch: Interactive Embroidery for E-Textiles: Sketch&Stitch is an interactive system for creating e-textiles quickly and iteratively. It enables a new design workflow that combines physical sketching with an embroidery machine, offering users the benefits of direct making and the power of digital tools. (read more)
Paper at CHI 2018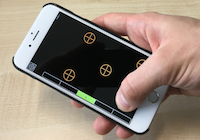 Release, Don't Wait! Reliable Force Input Confirmation with Quick Release: Modern smartphones, like iPhone 7, feature touchscreens with co-located force sensing. This makes touch input more expressive, e.g., by enabling single-finger continuous zooming when coupling zoom levels to force intensity. Often, however, the user wants to select and confirm a particular force value, say, to lock a certain zoom level. The most common confirmation techniques are Dwell Time (DT) and Quick Release (QR). While DT has shown to be reliable, it slows the interaction, as the user must typically wait for 1 s before her selection is confirmed. Conversely, QR is fast but reported to be less reliable, although no reference reports how to actually detect and implement it. In this paper, we set out to challenge the low reliability of QR (read more)
Note at ISS 2017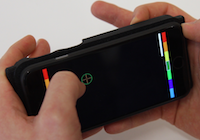 BackXPress: Using Back-of-Device Finger Pressure to Augment Touchscreen Input on Smartphones:BackXPress lets users create pressure input with six fingers at the back of landscape-held smartphones to augment their frontal touchscreen interaction. We present design guidelines derived from three studies. (read more)
FullPaper at CHI 2017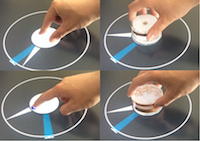 Knobology Revisited: A Comparison of User Performance between Tangible and Virtual Rotary Knobs: We present an experimental comparison of tangible rotary knobs and touch-based virtual knobs in three output conditions: eyes-on, eyes-free, and peripheral. Twenty participants completed a simple rotation task on a interactive surface with four different input techniques (two tangibles and two virtual touch widgets) in the three output conditions, re- presenting the distance from the locus of attention. We found that users were in average 20% faster using tangible knobs than using the virtual knobs. We found that tangible knobs retains performance even if they are not in the locus of attention of the users. We provide four recommendations of suitable choosing knobs based on tasks and design constraints. (read more)
Note at ITS 2015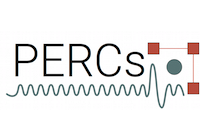 PERCs: Persistently Trackable Tangibles on Capacitive Multi-Touch Displays: PERCs use the touch probing signal from capacitive touch screens to determine whether the tangibles are on- or off-screen. This allows robust capacitive tangible widgets regardless of being touched. (read more)
Paper and Demo at UIST 2015 and Demo at ITS 2015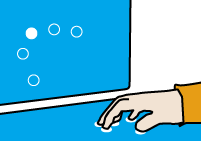 Indirect Touch is a multitouch system in which users indirectly manipulate objects on the vertical screen by with touches on the horizontal screen. This interaction improves ergonomics of interactions over an extended period by reducing gorilla arm (vertical screen) and stiff neck (horizontal screen). (read more)
Full paper at CHI 2013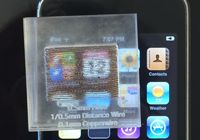 Transporter Widgets are touch and vision transitive tangibles for capacitive touch screens. (read more)
Work in Progress at CHI 2015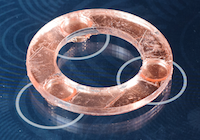 Passive Untouched Capacitive Widgets (PUCs) are simple physical widgets the can be detected by an unmodified capacitive touch screen without being touched by a user. They can be used on most existing projected-capacitive displays. (read more)
Note and demo at ITS 2013 and demo at UIST 2013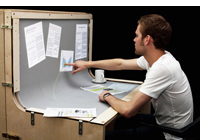 BendDesk is an interactive desk environment that merges a vertical and a horizontal display with a curve. The entire surface is touch sensitive and supports direct manipulation of digital objects. (read more)
Full paper and demo at ITS 2010.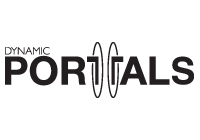 Dynamic Portals is a light-weight touch-based technique that allows to transfer virtual objects to distant locations on an interactive tabletop. (read more)
Note at ITS 2011. Received Best Note Award.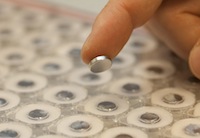 FingerFlux is a haptic output technique that provides near-surface haptic feedback on interactive tabletops. It combines an electromagnetic display with a permanent magnet attached to the user's index finger. (read more)
Paper and demo at UIST 2011.
Teaching
Projects
FAB101 FLApp 3D-Kompetenzzentrum Niederrhein Personal Photonics Tabula Abend der offenen Tür / Open House Night until 2008
MACS: Maritime Control Systems of the Future until 2015
Publications
An arrow marks a major peer-reviewed archival publication.

2019

2018

2017

2016

2015

2014

2013

2012

2011

2010

2009