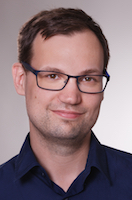 Dr. rer. nat. Simon Völker
Affiliated Researcher
Room 2204
This email address is being protected from spambots. You need JavaScript enabled to view it.
+49 241 80-21058

I am the head of the Study Center Computer Science at the RWTH Aachen University and affiliated Researcher at Media Computing Group. Until 2020 I was the deputy head (Akademischer Oberrat) of the Media Computing Group. My work and research interests are in a wide range of topics within the field of Human-Computer Interaction (HCI), including but not limited to ubiquitous computing, personal fabrication, touch input, interactive surfaces, and tangible user interfaces.

Before I started as a researcher, I received a Ph.D (2016) and a Diploma (2010) in computer science at RWTH Aachen University.

For more details, take a look at my personal site: simonvoelker.net
I am also the coordinator of the board of examiners of the computer science department at RWTH Aachen University.
If you have any questions regarding the board of examiners please contact me via the online form of the computer science department.
Research Projects
Teaching

Projects
FAB101 FLApp 3D-Kompetenzzentrum Niederrhein Personal Photonics Tabula Abend der offenen Tür / Open House Night until 2008
MACS: Maritime Control Systems of the Future until 2015
Publications
An arrow marks a major peer-reviewed archival publication.

2023

2022

2020

2019

2018

2017

2016

2015

2014

2013

2012

2011

2010

2009