Springlets: Expressive, Flexible and Silent On-Skin Tactile Interfaces
The first tactile interfaces to provide a wide range of touch sensations on the skin in a sticker form factor.
Description
Springlets use a single type of actuator, soft and silent shape memory alloy springs (SMAs), to create a wide range of sensations on the skin in a highly wearable and customizable form factor. They use the simple contraction-expansion actuation of SMAs to stretch the skin or move and transform haptic objects on the skin surface. As a result, in our paper, we show how to build Springlets that apply tensile, normal, and tangential forces on the skin, creating sensations such as stretch, press, pull, drag, and expand.
Springlets' soft and thin form factor allows them to be worn on soft and curved body locations, thanks to their silent operation, even near the head. Springlets can be cut into any shape or size, they can be combined in a single interface, and digitally controlled to generate spatial sensations of various force profiles. They may also contain haptic objects of different textures (fluffy or tacky) and shape changing properties.
Unlike vibrotactile output, Springlets provide smooth yet powerful and silent sensations that mimic the natural forces and movements of touch gestures on the skin. This allows for a range of novel applications for mediated social communication, accessible user interfaces, mindful and affective applications, and virtual reality experiences.
Received Best Paper Honourable Mention Award at CHI 2019.
Authors
For any questions about the class, please contact Nur Hamdan.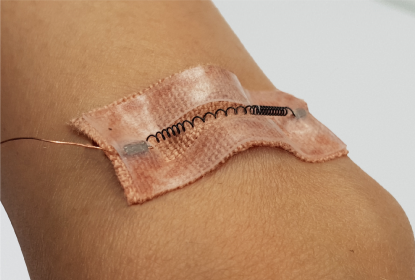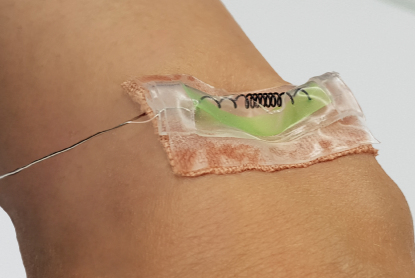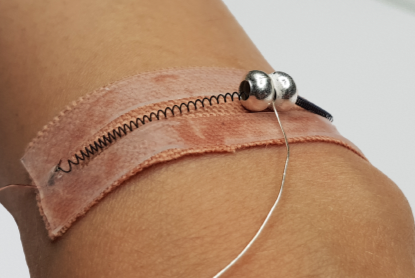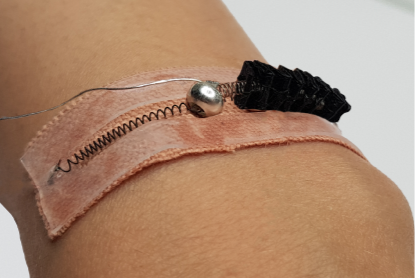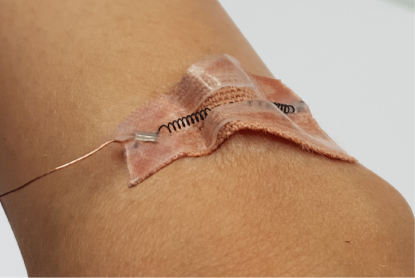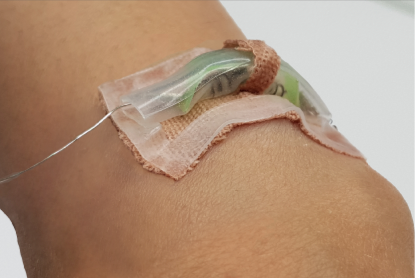 Fabricate your own Springlet!
Materials and tools: shape memory alloy springs (BMX coils 02.–0.62mm datasheet, Flexinol coils 1.37–3.45mm datasheet), silicon-rubber (we like xtremetape), Kinesio tape, glue (we like Pattex Superglue Ultra Gel), optionally a heat barrier (we like this kind)*, thin insulated wires, cord-end terminals, a crimper, a cutter, a ruler. See construction details in the paper and the video here.
*From our experimentations, layering two pieces of Kinesio tape under the tactile layer provides sufficient heat protection to the user. In this case, no heat barrier is required.
All you need to drive and control Springlets is a battery and a pulse-width-modulator. Our circuit diagram and Arduino code can be provided upon request.
Download Postcard
Download Poster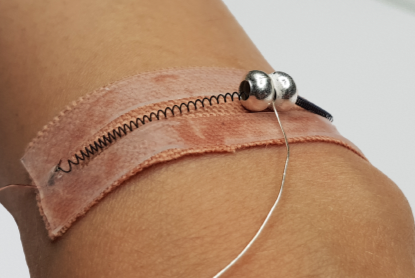 Publications
2019

Nur Al-huda Hamdan, Adrian Wagner, Simon Voelker, Jürgen Steimle and Jan Borchers. Demonstration of Springlets: Expressive, Flexible and Silent On-Skin Tactile Interfaces. In to appear: Proceedings of the 2019 CHI Conference on Human Factors in Computing Systems, CHI '19, ACM, New York, NY, USA, May 2019.