FingerFlux: Near-surface Haptic Feedback on Tabletops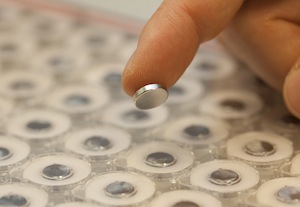 Click image for YouTube video.
News
What is FingerFlux?
FingerFlux is a haptic output technique that provides near-surface haptic feedback on interactive tabletops. It combines an electromagnetic display with a permanent magnet attached to the user's index finger. The display consists of an array of electromagnets whose polarization and strength can be controlled individually. As the magnetic fields reach well beyond the surface, we can employ the array to influence the magnet at the user's finger and, therefore, create a haptic sensation. Using the permanent magnet, users can feel the magnet fields the table produces.
Watch our video on YouTube.
Applications
Haptic output channel: FingerFlux provides an additional haptic output channel when interacting with touch screens. For example, when a user unintentionally approaches an on-screen button that triggers a critical operation, FingerFlux can provide vibration feedback to warn the user. FingerFlux can also render simple shapes or street maps, which may help visually impaired users to operate touch screens.
Guiding the user: FingerFlux can guide users across the tabletop by creating an attracting magnetic field in a desired direction while producing a repelling force in the opposite direction. Sample applications include teaching gestures, or helping users to find a certain location on the screen without looking.
A-priori input correction: Users tend to drift away from controls when operating touch screens without looking. Attracting magnetic fields can realign the user's finger every time he pushes a button and, thereby, avoid drifting over time.
Moderate physical constraints: By creating attracting electromagnetic fields in the area of an on-screen control and repelling fields around it, we can make sure that users do not easily move outside controls they operate. Snap-to-grid can be implemented by creating attracting fields beneath grid nodes.
Future Designs
Attaching a magnet to a finger might sound impractical. However, this can be worth the trouble if it, e.g., allows visually impaired users to interact with touch screens. Furthermore, future designs are straight-forward:
on top of the finger
next to the finger
at the end of a stylus
one or multiple magnets
embedded into a glove
There is also a body modification community that implanted magnets to the finger to gain a sixth sense and to feel electromagnetic fields.
User Studies
Our studies show that users can feel vibration patterns up to 35 mm above the table surface when using our prototype. They also provide evidence that FingerFlux reduces drifting when operating buttons in an eyes-free fashion.
The details of our study can be found in our UIST 2011 paper. We also provide the raw data of our drifting experiment to support replication of our experimental results.
The Team
FingerFlux is a research project by Malte Weiss, Chat Wacharamanotham, Simon Voelker, and Jan Borchers from the Media Computing Group. It is funded in part through the German B-IT Foundation.
Related Projects
Publications