Dr. Malte Weiss
---
I was a PhD student at Media Computing Group from October 2007 to January 2013.

I was conducting research at the intersection of interactive surfaces and tangible user interfaces. My PhD thesis focussed on improving the limited haptic experience on touch-based surfaces with dynamic physical controls that integrate well into the nature of interactive tabletops while being lightweight, passive, and low-cost.

My PhD thesis is available for download (pdf): high-res (172 MB), low-res (8 MB)
www.malte-weiss.de

Research Projects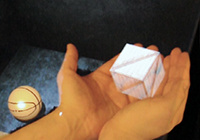 HoloDesk is a novel interactive system combining an optical see through display and Kinect camera to create the illusion that users are directly interacting with 3D graphics. (read more)
Full paper at CHI 2012 in collaboration with Microsoft Research Cambridge.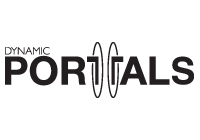 Dynamic Portals is a light-weight touch-based technique that allows to transfer virtual objects to distant locations on an interactive tabletop. (read more)
Note at ITS 2011. Received Best Note Award.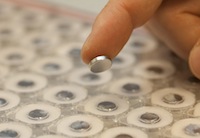 FingerFlux is a haptic output technique that provides near-surface haptic feedback on interactive tabletops. It combines an electromagnetic display with a permanent magnet attached to the user's index finger. (read more)
Paper and demo at UIST 2011. Demo received 3rd place of Best Demo Award.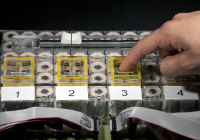 We render physical effects in tabletop controls using electromagnetic actuation. Keeping the advantages of low-cost passive tangible, we allow designers to change physical properties on the fly, such as weight, friction, spring resistance, and detents.
Note at CHI 2011.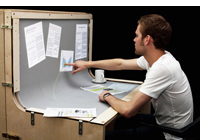 BendDesk is an interactive desk environment that merges a vertical and a horizontal display with a curve. The entire surface is touch sensitive and supports direct manipulation of digital objects. (read more)
Full paper and demo at ITS 2010.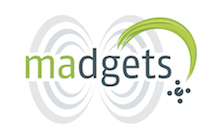 Madgets are low-cost, untethered, and easy-to-build tangible controls for interactive tabletops. Our tabletop maintains the consistency between physical controls and their digital state by using electromagnetic actuation. (read more)
Full paper at UIST 2010.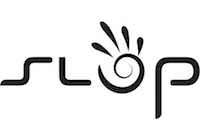 SLAP Widgets are tangible general-purpose controls for interactive tabletops, made from silicone and acrylic. They combine the haptic feedback of physical controls with the flexibility of on-screen widgets. (read more)
Full paper at CHI 2009. Demo at CHI 2009 and TEI 2009.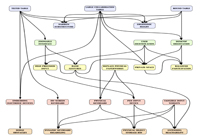 We are developing an HCI design pattern language that provides solutions for recurring problems when designing interactive tabletops and applications. (read more)
Paper at EuroPLoP 2010.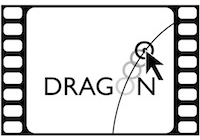 DRAGON is a direct-manipulation interaction technique for frame-accurate navigation in video scenes. (read more)
Note at CHI 2008. Received Best Note Award.
Other projects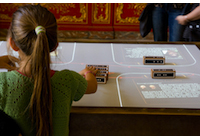 The Aachener Frieden is an interactive exhibit at the city hall of Aachen. It lets users explore the historical background of the Peace of Aachen in a playful tangible way. (read more)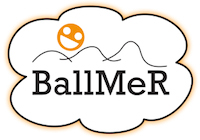 BallMeR is multi-player soccer game using the pressure-sensitive multi-touch keyboard by Microsoft Research. (read more)
Received 2nd place at Student Innovation Contest of UIST 2009 for the category Best Implementation.
Internships and Visits
2011 Internship with Otmar Hilliges and Shahram Izadi at Microsoft Research, 4 months, Cambridge, UK.
2006-07 Research Scholar with Paul Debevec in Graphics Group of Institute for Creative Technologies, 6 months, Los Angeles, USA.
Publications
PhD Thesis
Full Papers and Notes
Book Chapter
Doctoral Symposium
Workshop Paper
Demos
Contest
Malte Weiss, Gero Herkenrath, Jonathan Diehl. BallMeR. 2nd place at Student Innovation Contest of UIST 2009. (web)
Talks
Bringing Haptic General-Purpose Controls to Interactive Tabletops on December 7th, 2012, at Hasselt University, Belgium.
Tangible Widgets on Tabletops on July 6th, 2010, at Media Informatics Group, LMU Munich, Germany.
Posters
Diploma Thesis
Organization
Conference
Publication Co-chair at ITS 2010.
Workshop
Kris Luyten, Davy Vanacken, Malte Weiss, Jan Borchers, and Miguel Nacenta. Second Workshop on Engineering Patterns for Multi-Touch Interfaces. Workshop at the ACM SIGCHI Symposium on Engineering Interactive Computing Systems (EICS) 2011, June 2011, Pisa, Italy. (web)
Kris Luyten, Davy Vanacken, Malte Weiss, Jan Borchers, Shahram Izadi, and Daniel Wigdor. Engineering Patterns for Multi-Touch Interfaces. Workshop at the ACM SIGCHI Symposium on Engineering Interactive Computing Systems (EICS) 2010, June 2010, Berlin, Germany. (web)
Teaching Activities
Supervised Student Theses