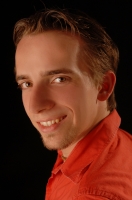 Dr. Malte Weiss
Malte completed his PhD with distinction ("summa cum laude") on interactive tabletops and tangible user interfaces at the Media Computing Group under the supervision of Prof. Dr. Jan Borchers in 2013. To find out what he did next, check out our alumni page.
---
I was a PhD student at Media Computing Group from October 2007 to January 2013.
I was conducting research at the intersection of interactive surfaces and tangible user interfaces. My PhD thesis focussed on improving the limited haptic experience on touch-based surfaces with dynamic physical controls that integrate well into the nature of interactive tabletops while being lightweight, passive, and low-cost.
My PhD thesis is available for download (pdf): high-res (172 MB), low-res (8 MB)
www.malte-weiss.de

Research Projects
Other projects
Internships and Visits
2011 Internship with Otmar Hilliges and Shahram Izadi at Microsoft Research, 4 months, Cambridge, UK.
2006-07 Research Scholar with Paul Debevec in Graphics Group of Institute for Creative Technologies, 6 months, Los Angeles, USA.
Publications
PhD Thesis
Full Papers and Notes
Book Chapters
Doctoral Symposia
Workshop Papers
Demos
Contests
Malte Weiss, Gero Herkenrath, Jonathan Diehl. BallMeR. 2nd place at Student Innovation Contest of UIST 2009. (web)
Talks
Bringing Haptic General-Purpose Controls to Interactive Tabletops on December 7th, 2012, at Hasselt University, Belgium.
Tangible Widgets on Tabletops on July 6th, 2010, at Media Informatics Group, LMU Munich, Germany.
Posters
Diploma Thesis
Organization
Conferences
Publication Co-chair at ITS 2010.
Workshops
Kris Luyten, Davy Vanacken, Malte Weiss, Jan Borchers, and Miguel Nacenta. Second Workshop on Engineering Patterns for Multi-Touch Interfaces. Workshop at the ACM SIGCHI Symposium on Engineering Interactive Computing Systems (EICS) 2011, June 2011, Pisa, Italy. (web)
Kris Luyten, Davy Vanacken, Malte Weiss, Jan Borchers, Shahram Izadi, and Daniel Wigdor. Engineering Patterns for Multi-Touch Interfaces. Workshop at the ACM SIGCHI Symposium on Engineering Interactive Computing Systems (EICS) 2010, June 2010, Berlin, Germany. (web)
Teaching Activities
Supervised Student Theses
Publications
2012

2011

2010

2009

2008

2007

2003