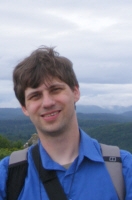 Dipl.-Inform. René Bohne
Research Assistant
Room 2213
This email address is being protected from spambots. You need JavaScript enabled to view it.
+49 241 80-21072

Current Work and Contact Info
As of 2017, I am Startup Program Manager at Telefónica Germany, where we are developing a consumer IoT platform called geeny. If you'd like to contact me, check out my personal web page: http://www.rene-bohne.de.
Schedule and Away Dates
My schedule has a dedicated page: bohne_schedule
Research Topics
Besides my teaching and research activities, I managed the Fab Lab Aachen, which is part of our chair at RWTH Aachen University.
Master and Bachelor Theses I supervised
Student Assistants
These student assistants helped me in the Fab Lab:
Projects
FabLab Aachen

For many years, I was the main contact person for the Fab Lab at RWTH Aachen University. If you are a student at our chair, you can register for our FabLab training courses. These courses allow you to use the FabLab on any date (except Tuesday) without registration.
dorkbot Aachen
I organized the dorkbot Aachen meetings which continue to take place every third Wednesday of the month in room 2222.
robOLED
I created the software for the robOLED robotic arm that types on an iPad and sends text to an OLED wall. It is a permanent art installation in the new BMBF building in Berlin.
iWall
I was part of the iWall team. The iWall is an interactive light installation that opens up new opportunities in Smart Lighting research, teaching, and development for researchers, students, artists and makers. It is installed high up along the entire façade of the Computer Science building at RWTH Aachen University, facing Halifaxstraße.
FabArcade
I was one of the supervisors of the FabArcade project, an open-source games arcade that can be built in any Fab Lab.
Diploma Thesis
My Diploma Thesis was about LumiNet.
I created a distributed bootloader for the network and added support for the LumiNet hardware to the Arduino IDE. My supervisors were Prof. Jan Borchers and Gero Herkenrath.
Publications