Silhouettes: An Interactive Collaborative Gesture-Based Experience for the EXPO 2010 Shanghai
Silhouettes is an interactive collaborative gesture-based experience for the German-Chinese House at the World EXPO 2010 in Shanghai. It was developed by Prof. Peter Russell's CAAD group and Prof. Jan Borchers' Media Computing Group at RWTH Aachen University.

Echoing the theme of EXPO 2010, the German-Chinese House and its host, the German-Chinese government initiative Germay and China - Moving Ahead Together, EXPO visitors can create a virtual city neighborhood together by interacting with a large-scale display wall using only their body silhouettes. Their city neighborhood becomes part of a growing 3D virtual city that can be seen online. The system was developed under Mac OS X and runs on an array of Apple Mac Pro and Mac mini computers.

The exhibit opened on May 1st along with the rest of World EXPO 2010, and will be on display until June 24th. On the first day, more than 2,000 visitors enjoyed the interactive experience, and the German-Chinese House expects more than 170,000 visitors during the 2 months Silhouettes and the house will be open.

More details about the initiative, current photos and videos, and information about the unique bamboo structure housing the exhibit, can be found at the home page of the Germany and China - Moving Ahead Together initiative (in German and Chinese), or by clicking on the building below.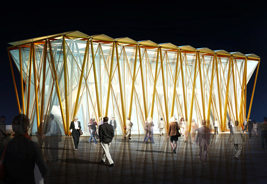 The German-Chinese House at EXPO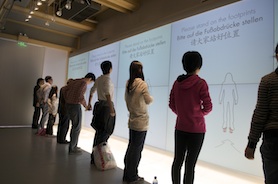 Playing the Silhouettes game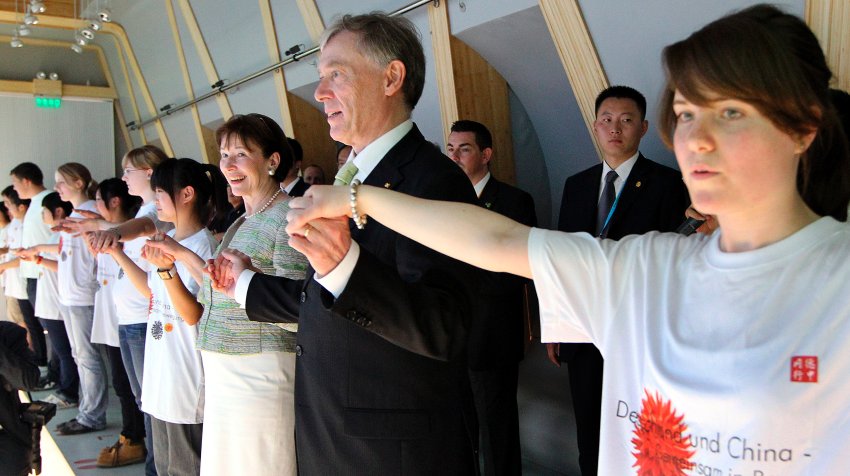 Köhler playing Silhouettes (DPA)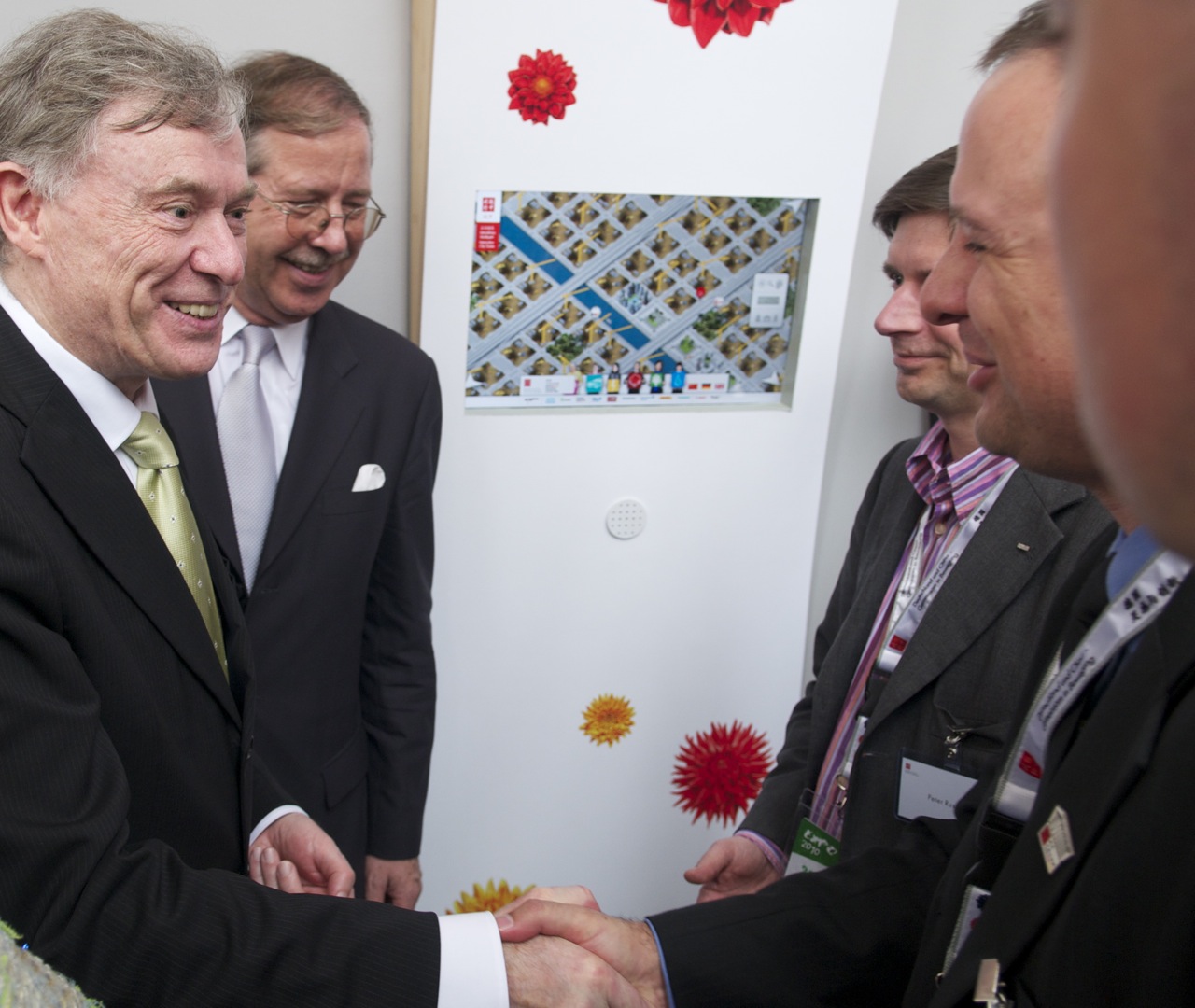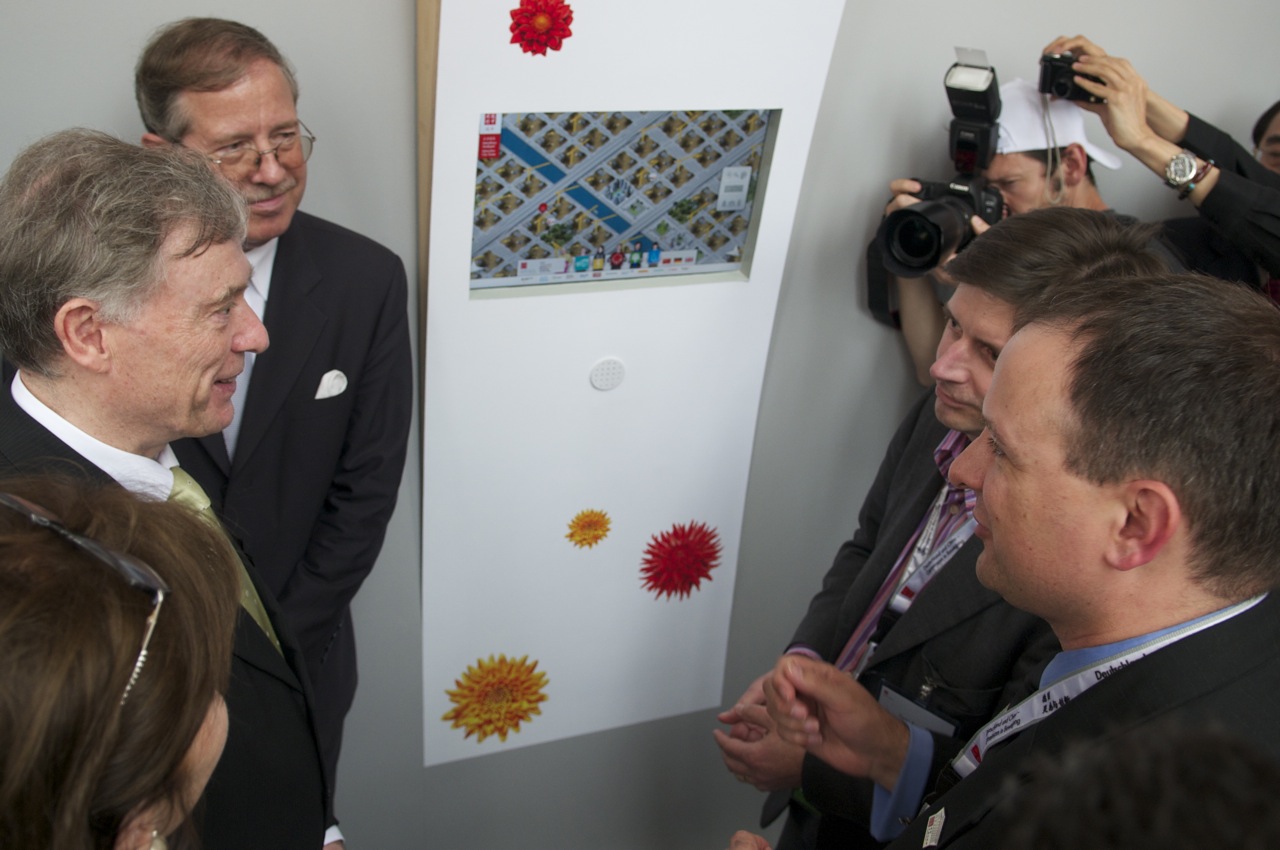 Köhler, Russell and Borchers after the game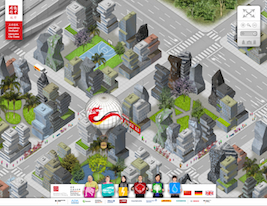 The 3D city visitors are creating
Video
Latest News
15.07.10 German-Chinese House and Silhouettes has extended its opening probably until the end of the Expo.
10.07.10 German-Chinese House and Silhouettes is featured in Dreyer's Expo Highlights, BON TV (video, cached only related parts)
01.07.10 German-Chinese House will stay open, possibly until the end of the Expo, Shanghai Daily (cached news article)
01.07.10 German-Chinese Virtual City Completed, a report on closing of the structure from International Channel Shanghai (Short video in English, cached)
30.07.10 Germany-Chinese city is completed with 11,703 city blocks (article in German)
18.06.10 Exclusive interview with Prof.Borchers and Prof.Russell from German.China.org.cn (article in German)
19.05.10 Germany's Federal President Horst Köhler visited the Silhouettes interactive experience at EXPO today. Over 60,000 people have enjoyed the exhibit to this day. Spiegel Online and other press outlets report. See also: Press release
01.05.10 Grand opening: The Silhouettes interactive experience opened successfully in the German-Chinese House on the EXPO grounds in Shanghai today. Over 2,000 visitors experienced Silhouettes on its first day! (May 1)
28.04.10 Bau dir eine Stadt im Schattenspiel, Aachener Nachrichten / Aachener Zeitung, Apr 28, 2010, page 13
Credits
Our colleagues from Peter Russell's CAAD group took on the general project coordination, interior architecture and visual design.
The Media Computing Group team behind the interactive Silhouettes experience: