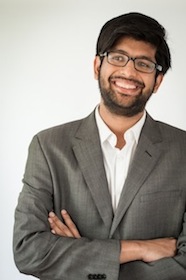 Kashyap Todi
Student Research Assistant
Project Space
This email address is being protected from spambots. You need JavaScript enabled to view it.
+49-151-64305287

-->
I
am currently a PhD Student at
EDM (Expertise Centre for Digital Media)
, Hasselt University. I am working on Urban Interfaces and the use of HCI to enhance and enrich interactions with urban infrastructure. Visit my personal web page at
www.kashyaptodi.com
.
I worked as a research assistant at i10, on two different projects.
Supervisor:
Chat Wacharamanotham
Topic
:
Sniper Pointing
: Above the Surface Pointing with Multiple Resolutions
I investigated the use of mid-air interactions to perform free-hand cursor manipulation. My thesis dealt with the design and evaluation of an interaction technique which allows users to acquire on-screen targets using the volume available above the keyboard, in a standard desktop environment. The interaction involves the use of multiple pointing granularities, allowing for both, fast as well as accurate cursor manipulation, while overcoming typical problems such as homing between devices, and the "fat-finger problem".
My full thesis is available
here
.
Recent and on-going projects
Projects and Side Activities
Sniper Pointing (2012–'13)

A novel mid-air interaction technique, which uses volume above the keyboard to provide pointing with multiple precision levels. We are interested in exploring further usage of this 3D volume, which opens up the possibility for a wider range of input interactions, including free-hand pointing and gestural interactions.





Aachener Frieden Exhibit

The Aachener Frieden is an interactive exhibit at the city hall of Aachen. It lets users explore the historical background of the Peace of Aachen in a playful tangible way. (read more)

User-Friendly Toasters (2012)

Nothing worse than beginning the morning with a burnt slice of toast. To avoid this, I recently modified my toaster dial and added a custom-made overlay to make it a bit more intuitive :-)





Gotcha! (2011–'12)

A location-based augmented reality game, developed on the Android platform. This application was developed as a part of the User-Oriented System Design and Personalized Information Services Lab at Fraunhofer FIT, Sankt Augustin, and involved user-centric design, implementation and evaluation of a modern game based on the popular Tamagotchi toys.




Eco-mmunity (2011)

A prototype of a Facebook application, developed to make users aware of energy consumptions in their household. This mini-project, performed as a part of the Designing Interactive Systems II course, aimed at using the concepts of serious gaming and competition, in order to promote awareness among users and help in reducing the amount of energy consumed on a daily-basis.




Touch 'n' Go Multitouch Game Controller (2011)

A multitouch game controller designed and built for the lecture Designing Interactive Systems I. It uses Frustrated Total Internal Reflection to detect touches on a non-planar surface, through the emission of infrared light and its detection using an infrared camera. The device, built from simple electronics and laser-cut parts, allows people to play games which require steering and two button commands—accelerate and break. Check the youtube video to see how finger touches are detected!



Facebook Profiler (2011)

A Facebook application was developed in order to study social aspects and the behavior of users on social networks, as a part of the Computer-Supported Cooperative Work (CSCW) Experience Lab at Fraunhofer FIT, Sankt Augustin.




2012
My updated information is available on
my personal website
.
You can see my detailed Curriculum vitae (CV)
here
.
Talk to me about: