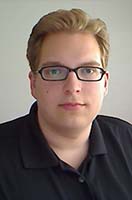 Lars Feyerabend
Student Assistant
This email address is being protected from spambots. You need JavaScript enabled to view it.
I've been with the i10 in summer 2008 and under supervision of Malte Weiss I've been doing preliminary work for the Route Charlemagne project.

My assignments included research about and evaluation of outdoor tracking systems, i. e. GPS and possible alternatives. See my research results (internal page).

In winter term 08/09, I'm overseeing the lecture exercises for Designing Interactive Systems I and helping with organisational stuff under supervision of Gero Herkenrath.