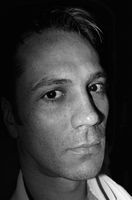 Ray Bohnenberger
Diploma Thesis Student
This email address is being protected from spambots. You need JavaScript enabled to view it.
Diploma Thesis
In my diploma thesis I will build an widget, which will introduce Tangible Personal Spaces (TaPS). This widget creates an personal space on tabletop systems so the user can view sensitive data. There are several points to consider. One reason for blocking the sight for other users is security, another reason is to prevent information overload for other users while displaying some personal information or help. A third point is to let users handle their personal documents in this widget. This reflects the real life scenario of an conference table.
I want to implement different versions of the widget and test the pros and cons of the different implementations. All implementations will be realized using optics like lenticular lens foil or fly eye lens foil.
If you are interested in this topic, you are welcome to read my proposal or take an closer look to my proposal slides.

My supervisor is Max Möllers.

Activities:
25.11.2010 - Final Talk
15.10.2010 - Delivery
20.09.2010 - 25.09.2010 - Usertest II (Final prototype)
18.05.2010 - 25.05.2010 - Usertest I (Paper prototype)
30.03.2010 - Creation of this Website
18.03.2010 - Proposal-Talk

Files:
Publications
2011

Max Möllers, Ray Bohnenberger, Stephan Deininghaus, Patrick Zimmer, Karin Herrmann and Jan Borchers. TaPS Widgets: tangible control over private spaces on interactive tabletops. In Proceedings of the 2011 annual conference extended abstracts on Human factors in computing systems, In CHI EA '11, pages 773–780, ACM, New York, NY, USA, 2011.