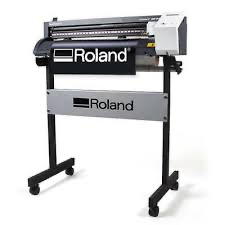 Roland GS-24 Vinyl Cutter
If the vinyl cutter is not in the Fab Lab, look for it in room 2221 (Video Lab / Milton's Office).
Use it to cut rolls of material like vinyl, copper tape, twill, heat transfers, etc.
Great alternative for vinyl, which would release toxic fumes if cut in the laser cutter
Also a good alternative to avoid charred edges from laser cutting other materials like thin cardboard
Overlap cutting (up to 10x), for cutting thicker media like magnetic materials and card stock
Cutting speed up to 50 cm per second
Setup Instructions:
Put the vinyl roll inside the cutter and lock it in place by pulling up the lever on the left.
If your roll is bigger or smaller, you can change the distance between the rolls holding the foil in place.
Use the white marks as an orientation, select the roll on the screen on the right by using the arrow keys, and press Enter.