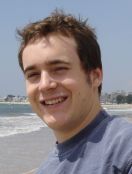 Sven Kratz
Student Assistant
Project Involvement
Large Public Displays
Phonecam Interaction
REXplorer
Documents
Interests
Pages
Publications
2007

Rafael Ballagas, Steffen P. Walz, Sven Kratz, Claudia Fuhr, Eugen Yu, Martin Tann, Jan Borchers and Ludger Hovestadt. REXplorer: A Mobile, Pervasive Spell-Casting Game for Tourists. In CHI '07: Extended Abstracts on Human Factors in Computing Systems, pages 1929–1934, ACM Press, New York, NY, USA, 2007.
Sven Kratz and Rafael Ballagas. Gesture Recognition Using Motion Estimation on Mobile Phones. In PERMID '07. 3rd Intl. Workshop on Pervasive Mobile Interaction Devices at Pervasive 2007.,2007.

2006

Steffen P. Walz, Rafael Ballagas, Jan Borchers, Joel Mendoza, Sven Kratz, Christoph Wartmann, Claudia Fuhr, Martin J. Tann, Dong Youn Shin, Bilal Hameed, Laszlo Bardos and Ludger Hovestadt. Cell Spell-Casting: Designing a Locative and Gesture Recognition Multiplayer Smartphone Game for Tourists. In Proc. PERGAMES, Third International Workshop on Pervasive Gaming Applications at PERVASIVE 2006, LNCS, Dublin, Ireland, May 2006.