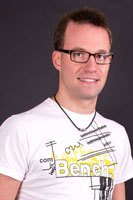 Daniel Kaulen
Master Thesis Student
This email address is being protected from spambots. You need JavaScript enabled to view it.


I was a Visiting Graduate Student (Oct. 01, 2014 - Mar. 31, 2015) at The Design Lab at UCSD directed by Don Norman. I worked on my Master`s Thesis in collaboration with the Media Computing Group.

Thesis Supervisors:

Thesis Topic
Using Google Glass to Support Time-Critical Medical Teamwork
Google Glass zur Unterstützung bei zeitkritischer, medizinischer Teamarbeit

Publications

Additionally, you can check my
Google Scholar Profile
.