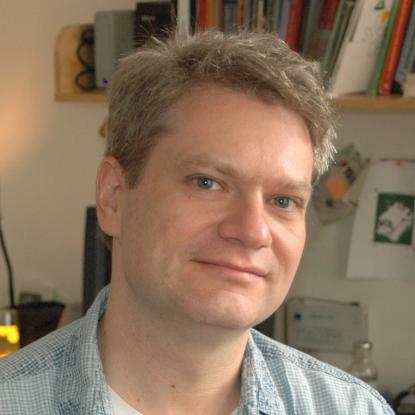 Tom Igoe, Associate Professor from the Interactive Telecommunications Program (ITP) at NYU, author of Physical Computing and Making Things Talk, and one of the co-founders of the Arduino project, will visit the Media Computing Group to teach a B-IT Research School Seminar from June 15-18, 2010. Topics will revolve around Physical Computing and Sustainable Technology.

Tom Igoe wrote about his stay at the Media Computing Group in his blog.



Slides
Schedule

Talks will be in the mornings, practical lab sessions in the afternoons.

Monday Afternoon:
Tuesday: Physicality
10am-11:30am: Talk
Introductions
Physical computing as hands-on introduction for the technology-averse
Physical computing's greatest hits
1pm-4pm: Lab
Physical computing workshop: lightning round of basics, playing to get started
"Stupid pet trick" challenge -- a playful project to get people building things
Wednesday: Conviviality
10am-11:30am: Talk
Nothing stands alone, or why conviviality is important
Conviviality is not just communication. Also includes style, quality of experience, assumptions about the listener
1pm-4pm: Lab
Physical computing workshop: serial to sockets
Pachube, Twitter, and other ways of conveying the data (ref: Nick Bilton)
Thursday: Openness
09:00 Individual meeting: Thorsten (tentative)
10:00-11:30am Talk
Open source innovation and sustainable development
1:00pm-6:00pm: Individual meetings
Friday: Physical Computing in research
9am: Individual meeting: Jonathan
10-11:30am: Talk
Physical computing applied to research
Monkey behavioral research
Assistive tech projects
Afternoon:
13:00-16:00 Watch Soccer! Germany-Serbia
16:00-19:00 Informatik-Sommerfest
In between: 16:30-17:15 Amro one-on-one (during award ceremony)