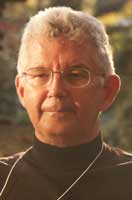 Jim Hollan
Visiting Professor (UCSD)
This email address is being protected from spambots. You need JavaScript enabled to view it.


Professor Jim Hollan, codirector of the Distributed Cognition and Human-Computer Interaction Lab at the University of California, San Diego (UCSD), will be visiting the Media Computing Group during Summer 2009. He will divide his sabbatical into several shorter visits in order to kick off and coordinate our collaboration.
First visit: July 13-17
Second visit: between mid-August and early October.
Schedule of talks and presentations
The Cognitive Consequences of Technology and the Technological Consequences of Cognition
B-IT Research School seminar. (Directions).
Tue July 14, 10am-4pm & Wed July 15 10am-3pm
Room 2U13 (Media Computing Lab), Computer Sciece Center, Ahornstr. 55, 52074 Aachen
Seminar Schedule:

Introduction
A brief research history
Distributed Cognition and Human-Computer Interaction Lab
Rapidly changing technological, cognitive, and social ecology

Tuesday Focus: Bridging Digital and Physical Worlds (PDF ca. 50Mb)
Boundaries between physical, digital, and social worlds are increasingly permeable.
Example of bridging paper and digital worlds.
Brainstorm and develop research programmes.
How to link? Is this for good or for ill? What are the tradeoffs?

Wednesday Focus: Distributed Cognition (PDF ca. 20Mb)
The theory of Distributed Cognition: introduction and overview
Activity capturing: An unprecedented opportunity for understanding real-world activity
Methodological implications and challenges
A conjecture: Context Reinstatement - rethinking the concept of task interruptions

Video Materials