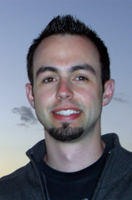 Mario Fraikin
Diploma Thesis Student
This email address is being protected from spambots. You need JavaScript enabled to view it.

My thesis supervisor is Jonathan Diehl.
Collaborating with Tangible Windows
Idea Generation and Information Exchange in Small Groups

Interaction with modern operating systems is based on the window metaphor - applications embed their content in virtual rectangles that are spread over the computer screen. The Tangible Windows concept is an alternative approach, which takes the windows from the screen and brings them into the physical world. It utilizes several device classes such as tablet computers and wall displays to let users interact with data independent of a single device. We denote the operations used to exchange information between various Tangible Windows "Nomadic Operations".

In this thesis, we apply the Tangible Windows concept to a collaborative scenario: brainstorming. In an iterative design process, we have developed the fully functional software "Sketch It!" that was implemented for Apple iOS and Mac OS X providing tools for note taking and idea sketching. We have conducted a survey investigating the frequency of today's meetings in business companies and collected information about tools and equipment utilized in these situations. Furthermore, we analyzed advantages and drawbacks of group work. Observations of a paper-based brainstorming session led to additional insights into the interaction between meeting participants and their workflows.

Based on these findings, we designed a first prototype realized as storyboards to illustrate potential use cases of the software and evaluated their plausibility with several people. We then present the software prototype and a set of design requirements that shaped its development. The system implementation consists of the applications "Sketch It! for iPad" and "Sketch It! for Mac", which are illustrated including applied improvements as well as our solutions for implementation challenges that occurred during development.

A qualitative user study of the Sketch It! system was arranged as a brainstorming session of collaborating employees from a business company. The study showed that Nomadic Operations are suitable support for collaborative tasks. The meeting participants indicated high interest to incorporate the Sketch It! system into their future brainstorming sessions.
Publications