TimeWindow
TimeWindow enables participants to interactively explore Regensburg's urban changes in the course of time.
A map of the city is projected on a large touch-sensitive display and by manipulating it with your fingers you reveal the different ages layer by layer.

Using the metaphor of an archeological excavation, visitors can dig through time and reveal interesting aspects of Regensburg's history.
Find out, which secrets the interactive map of TimeWindow conceals...


Das ZeitFenster ermöglicht den Besuchern eine interaktive Erforschung der städtischen Veränderungen von Regensburg im Laufe der Jahrhunderte.
Indem man die, auf ein berührungsempfindliches Display projizierte Karte der Stadt mit den Fingern verändert, deckt man Schicht um Schicht die verschiedenen Zeitalter auf.

Wie ein Archäologe bei einer Ausgrabung, koennen Besucher durch die Zeit graben und interessante Aspekte der Geschichte Regensburgs enthuellen.
Finden Sie heraus, welche Geheimnisse die interaktive Karte des ZeitFenster verbirgt...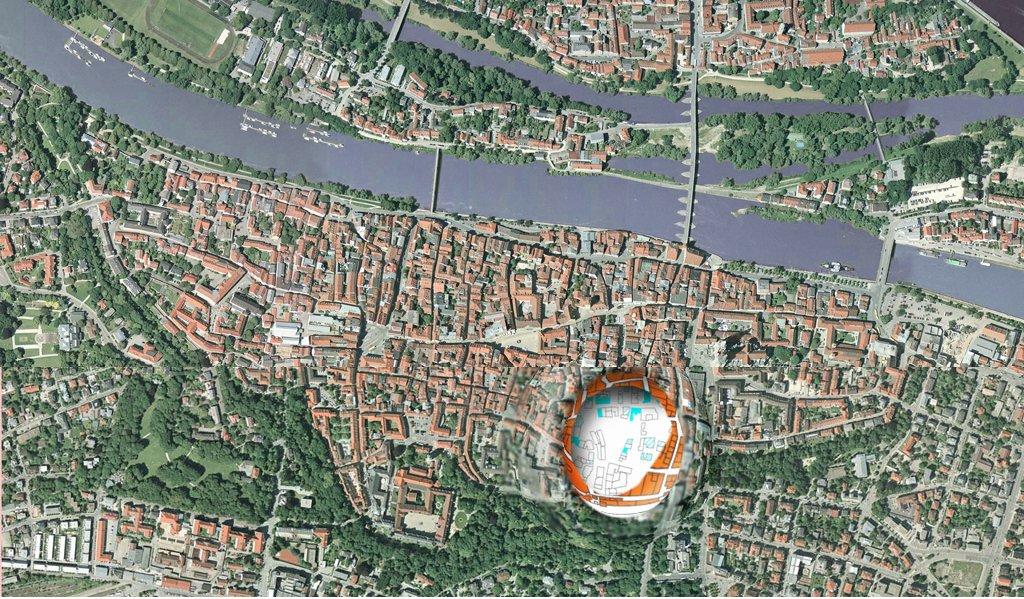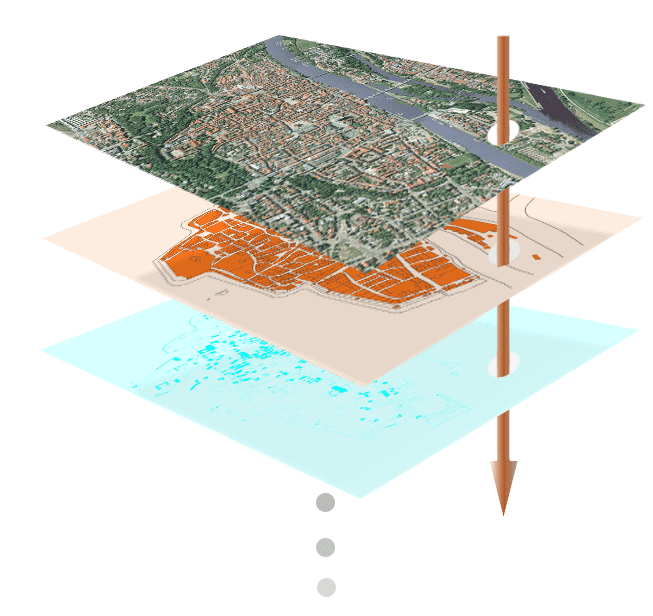 Project Development
The TimeWindow exhibit debuted in July 2005 as part of the REX Preview. The Preview gathered city representatives and citizens of Regensburg. Attendees offered enthusiastic feedback and enjoyed their role as active participants in the discovery of Regensburg's history.

Since then, TimeWindow, has undergone new and exciting changes. Although the underlying concept remains the same, the technology driving the interactions has evolved. Drawing on advancements in the field of Human-Computer Interaction, the exhibit is no longer limited to a single person. TimeWindow, in its current state, consists of a low cost multi-touch tabletop. This exciting technology offers new direc-tions for the TimeWindow exhibit.


Projektentwicklung
Den ersten Auftritt hatte das ZeitFenster Exponat im Juli 2005 als Teil der REX-Vorschau. Zu dieser Vorschau versammelten sich Vertreter der Stadt und Bürger von Regensburg. Es gab starke positive Resonanz der Anwesenden, die ihre Rolle als aktive Teilnehmer bei der Entdeckung von der Geschichte Regensburg sichtlich genossen.

Seitdem wurden viele neue und interessante Veränderungen am ZeitFenster vorgenommen. Obwohl das zu Grunde liegende Konzept das gleiche blieb, entwickelte sich die Technologie, die die Interaktion steuert. Durch Inanspruchnahme der Weiterentwicklungen im Bereich der Mensch-Maschine-Interaktion, ist das Exponat nicht mehr nur auf eine einzelne Person eingeschränkt. ZeitFenster, in der derzeitigen Version, besteht aus einem berührungsempfindlichen Tischplatte, die auch als Bildschirm dient. Diese Technologie erlaubt es mehreren Benutzern gleichzeitig, das Zeitfenster zu bedienen und zeigt neue Richtungen in der Bedienung des Exponats auf.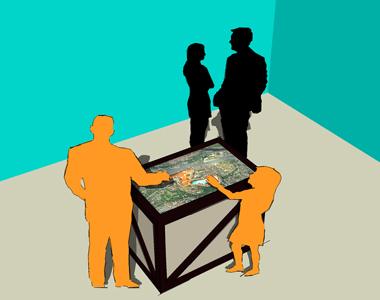 Further information
A short preview movie illustrates the interaction with TimeWindow.
A more detailed pdf-document in English describes also the technical implementation.
The official Website of REX Regensburg has also some further German information on TimeWindow.

Weitere Informationen
Ein kurzes Video zur Vorschau veranschaulicht die Interaktion mit ZeitFenster.
Ein detaillierteres pdf-Document auf Englisch beschreibt ebenfalls die technische Umsetzung.
Die offizielle Website von REX-Regensburg bietet auch weitere Informationen zu ZeitFenster auf deutsch.

Contact
For general information about the REX project, you can reach us at This email address is being protected from spambots. You need JavaScript enabled to view it.
For enquires concerning the TimeWindow project, please contact David Holman.


Kontakt
Für allgemeine Informationen zum REX-Projekt wenden Sie sich bitte an This email address is being protected from spambots. You need JavaScript enabled to view it.
Bei Fragen bezüglich des ZeitFenster Projektes wenden Sie sich bitte an David Holman.