Personal Chef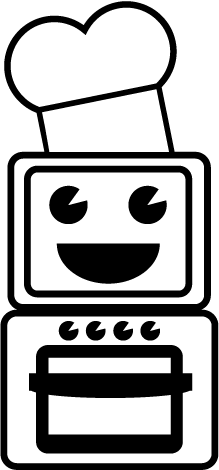 Cooking Guidance Through an Interactive Multi-Display Kitchen Counter
| | |
| --- | --- |
| As cooking shows become more popular and more numerous on television, chefs are increasingly gaining celebrity status. These trends indicate that there is an increasing interest in cooking not just for the everyday nutrition but, also as a hobby. Today the world wide web is a popular resource for recipes. Cooking communities like Chefkoch1 offer more than 113,000 recipes and had more than 83 million hits on their website per month (see chefkoch.de). | Kochsendungen sind in den letzten Jahren immer beliebter geworden, wie man an der steigenden Anzahl und Vielfalt der Kochshows sieht. Selbst Köche und Köchinnen avancieren zu TV-Stars und haben ihre Fangemeinden. Dies zeigt, dass es immer mehr Interesse am Kochen als Hobby und Leidenschaft gibt und nicht mehr nur Mittel zur alltäglichen Ernährung ist. Auch das Internet ist zur beliebten Rezeptquelle geworden, Kochcommunitys wie Chefkoch bieten mehr als 113.000 Rezepte an und haben mehr als 83 Millionen Hits im Monat (siehe chefkoch.de). |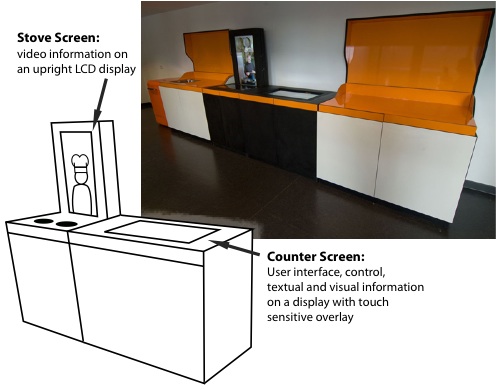 | | |
| --- | --- |
| If you wanted to cook a recipe along with the chef, it would take some effort. It would be possible to watch a recording of the cooking show after the actual broadcast and play and pause it manually while cooking. But it is easy to imagine this procedure being cumbersome especially for a novice cook, who is already struggling with the recipe itself. | Will man ein Rezept einer Sendung begleitend mit dem Koch nachkochen, gehört ein wenig Aufwand dazu. Vorbereitend muss man die Sendung aufnehmen und das Rezept im Internet herunterladen oder im Kochbuch der Sendung nachschlagen. Dann braucht entweder einen Fernseher oder einen Computer in der Küche. Und selbst dann, müsste man die Aufnahme stets während des Kochens pausieren und wieder starten. Bei schwierigeren Rezeptschritten unter Umständen zurückspulen oder den Player zurücksetzen. |
| | |
| --- | --- |
| Our system PersonalChef helps to unravel this complexity and offers an interactive cooking show, which guides step-by-step with the user's pace and based on his prior knowledge through a recipe. The system consist of two displays: one behind the stove and one touch-sensitive screen integrated into the kitchen counter (see the following figure). | PersonalChef soll diese Dinge dem Kochenden abnehmen und bietet ihm eine interaktive Kochsendung, die ihn Schritt für Schritt je nach seiner Geschwindigkeit und abhängig von seinen Vorkenntnissen durch das Rezept führt. Das System besteht, wie in der folgenden Abbildung zu sehen, aus einem Display hinter Herd und Ofen sowie einem in die Arbeitsfläche eingelassenen Touch-Display. |
The display behind the stove offers help to the user by showing a chef in a first-person perspective and a video showing a top down perspective onto the
stove. On the counter screen the user can track her progress, see needed ingredients and tools, as well as videos using a top down perspective onto the kitchen counter for more complex recipe steps.
The in-situ position of the displays was chosen to show information where it is needed and blend it into the regular kitchen environment.

Während das Display hinter dem Herd den Fernseh-Koch in Aktion in Spiegelperspektive zeigt, ist das Arbeitsflächendisplay interaktiv. Man sieht seinen Fortschritt im Rezept, sieht welche Zutaten und Küchengeräte noch benötigt werden und sieht schwierigere Zubereitungsweisen aus der Ich-Perspektive. Diese beiden unterschiedlichen Perspektiven sollen dem Nachkochenden helfen, die gezeigten Rezeptschritte einfacher nachzuvollziehen und zu lernen. Ausserdem soll die Position der Displays, nämlich genau dort, wo die Anleitung gebraucht wird - am Herd oder auf der Arbeitsfläche - helfen, ohne Unterbrechung zur Bedienung eines Computers oder Videoplayers, angenehmer zu kochen.

Team