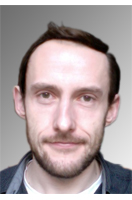 Christoph Klaja
Diploma Thesis Student
This email address is being protected from spambots. You need JavaScript enabled to view it.
Diploma Thesis

In collaboration with the UKA's specialized clinic for plastic surgery I have been working on a personal diagnosis assistant for use in a hospital's emergency department. The target platform was iOS. For more details, watch this introductional video presenting a rough overview of the application:

My supervisor for the diploma thesis which the project has been part of was Chatchavan Wacharamanotham.

Special thanks to Guy van der Walt from Plasticboy Pictures for providing the 3D models for free. See his website for more.

My interests are (among others):
animating things (in UIs) using ActionScript 3, Javascript and Core Animation
iOS in general
dynamic languages
eLearning
social cognition

Skills (selection):
pretty much every high-level programming language (been there, done that, got the t-shirt ;-))
thinking things through (not always a positive characteristic ;-))
sometimes impatience ;-)

Currently self-employed with Aixtraordinary.
Publications