FabScan CUBE
Back to
FabScan
The FabScan CUBE is a 3D-Scanner. It is an improved version of the original
fabscan
3D-scanner.
Update
The new
FabScan Pi
works as a standalone device controlled with a web browser. We highly recommend to use this advanced version instead of the original FabScan. Housing, Laser, Arduino and FabScan Shield can be reused, but the additional Raspberry Pi allows a use as a standalone device and the better Raspberry Pi camera aloows a higher resolution. The user interface and scan processing is also far more advanced.
Files for the lasercutter
The files can be cut on any laser cutter. Please load the PLF files into our
visicut
software.
The designs are for 5mm wood/MDF. You need four sheets of the size 600mm x 300mm.
BOM - Bill of Materials
Arduino Sketch
Upload the latest version of the Arduino sketch to your Arduino UNO:
https://github.com/francisengelmann/FabScan100/tree/master/arduino/FabScanArduinoFirmware
Assembly Instruction
there is no full assembly manual available yet.
You can have a look at the
old manual for the fabscan100
, but many details have changed.
There will also be an
interactive assembly assistant
available soon.
Renderings
Some renderings of the housing: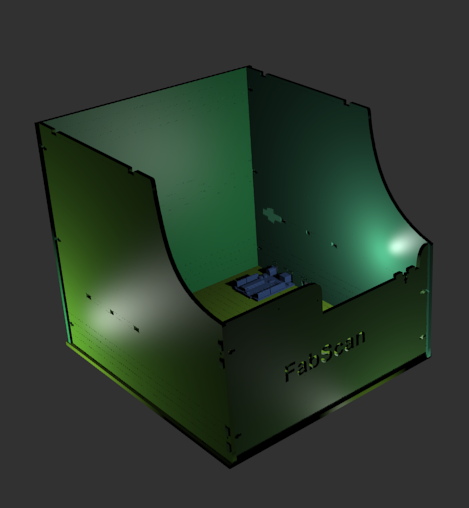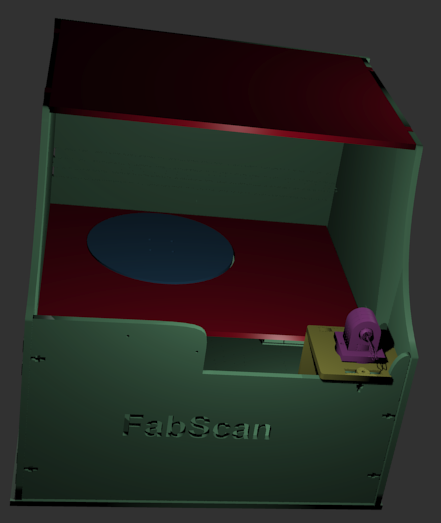 ---
Created by bohne. Last Modification: Friday 15 of April, 2016 22:29:15 by thar.
---
Sidebar