Lab: Multimodal Media Madness (M3) Summer 2013: Create the FabArcade!
This summer, you will be part of a team that will create the
FabArcade, the first fully open-source Video Arcade gaming station
that can be built completely at any
Fab Lab
using digital tools.
The end result will be a fully functioning video arcade that lets you relive those cool retro video games from the 80's. Finally play
Galaga
the way it was meant to be played, with a professional joystick and arcade buttons - even including a real coin slot for US quarters! (Coins provided. :) ) Plus, the FabArcade will also be running a game that you developed yourself!
Things you'll learn:
More information about this class on
L2P
(for registered students only).
Announcements
New, easy URL: http://fabarca.de (Jul 18, 2013)
The FabArcade is finished! See picture below. Complete documentation to make your own is being finalized and will be available here shortly. (Jul 17, 2013)
This lab is co-hosted by Prof. Dirk Henning Braun. His architecture students work on conceptual and game design. They will also help the computer science students to build the housing for the FabArcade. (April 2013)
Class announcements for registered students are available at L2P. (April 2013)
A first picture of the finished FabArcade
---
Past M3 Projects
Weatherella
was a project by previous M3 students - an umbrella that lights up whenever you should take it with you!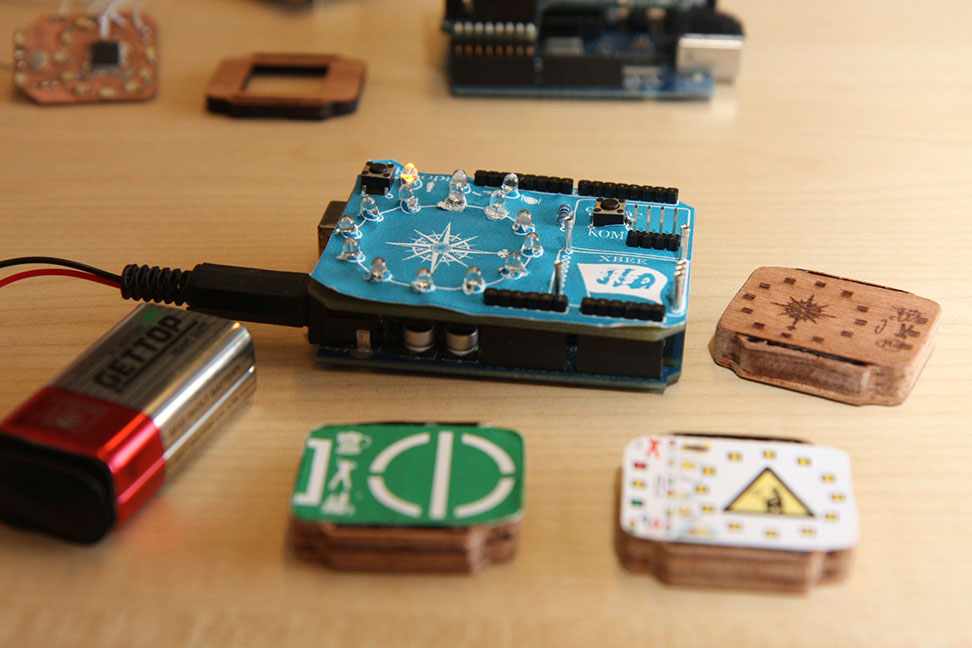 FriendLocator
was another project by previous M3 students to locate your friends at a concert.
Lecturers
Times
| | |
| --- | --- |
| Wed 13:30 - 16:00 | 4U15 (CIP pool, Ahornstr. 55) |
Tentative Schedule
| | |
| --- | --- |
| 10.04.2013 | Introduction |
| 17.04.2013 | 1: Processing Crash Course |
| 24.04.2013 | 2: Arduino Crash Course |
| 01.05.2013 | No Lab |
| 08.05.2013 | 3: Fab Lab Crash Course |
| 15.05.2013 | 4: Raspberry Pi Crash Course, Gruppeneinteilung |
| 22.05.2013 | 5: Project: FabArcade |
| 29.05.2013 | |
| 05.06.2013 | |
| 12.06.2013 | |
| 19.06.2013 | |
| 26.06.2013 | |
| 03.07.2013 | |
| 10.07.2013 | |
| 17.07.2013 | Final Project Presentation |
Grading Policy
To take this course for credit, you must complete all assignments, lab exercises, and the final project. The grade of this course will be calculated as follows:
40% - lab exercises, assignments
60% - final project
Note that you must achieve a cumulative score above 4.0
and
complete all exercises to pass the course.
Assignments and Lab Exercises
Assignments/lab exercises will be assigned weekly. They are to be completed in groups of 2 or 3. If you do not complete the lab exercise during the scheduled lab section, you must complete it on your own time and submit it by the due date. Lab exercises and assignments will be graded on the following scale:
1.0 - exceptional work that clearly went above and beyond what was given on the exercise
2.0 - exercise was completed satisfactorily as per the assignment specification
3.0 - exercise was completed, but has some problems
4.0 - incomplete exercise
5.0 - little or no effort was put into the exercise
The assignments and lab exercises are designed to be completed in the CS computing lab (CIP pool) in 4U15 that features our own Mac minis as well as PCs. All of the tools we will be using are cross-platform — you are welcome to complete the assignment on your platform of choice. However, it will be your responsibility to ensure your program(s) run on the machines in the lab. Programs that do not run correctly on the lab machines will be graded as incomplete. We will be able to provide technical support for the Mac minis in the lab only.
You are expected to be aware of, and abide by, the
ethics policy
for courses taught at our chair.
Late Policy
Late assignments will be graded with a penalty of 0.5 per each beginning 24 hour period after the due date. Exceptions will be granted only for valid (i.e., medical) reasons.
Past Offerings:
---
Created by stefan. Last Modification: Sunday 21 of July, 2013 00:58:48 by borchers.
---
Sidebar