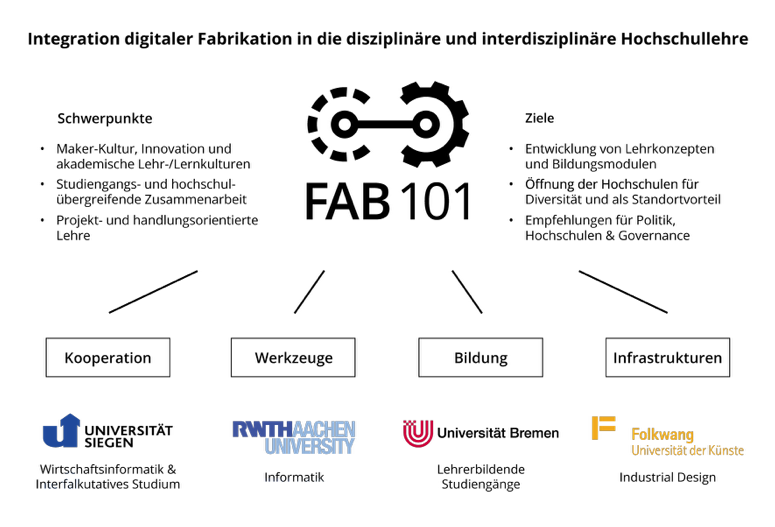 Digitalisierungsstrategie in der Hochschullehre: Das BMBF-Forschungsprojekt "FAB101"
Das Forschungsprojekt Digitale Fabrikationsinfrastrukturen in der interdisziplinären Hochschulbildung - FAB101 wird von März 2017 bis Februar 2020 vom Bundesministerium für Bildung und Forschung gefördert. Am Verbund beteiligt sind die Universität Siegen (Verbundkoordination), die RWTH Aachen, die Universität Bremen und die Folkwang Universität Duisburg/Essen. Aufgabe des Forschungsverbundes Fab101 ist es - ausgehend von den jeweiligen Fab Labs an den beteiligten Hochschulstandorten - in interdisziplinärer Zusammenarbeit Konzepte zu einer studiengangs- und hochschulübergreifenden Lehre in Laboren zur Digitalen Fabrikation (Fab Labs) praxisnah zu beforschen. Das Projekt ist Teil der Digitalisierungsstrategien der jeweiligen Hochschulen. Fab Labs sind Fabrikationslabore, in denen vorwiegend mit 3D-Druckern, Lasercuttern, Plottern, CNC-Fräsen und Mikrocontrollern gemeinsam gelernt, gearbeitet und geforscht wird. Ergänzend werden im Projekt die strukturellen Rahmenbedingungen in den Blick genommen, wie zum Beispiel die organisations- und sicherheitstechnische Einbettung (neuartiger) Fab Labs an Hochschulen sowie die Erstellung von Empfehlungen für die hardware- und softwaretechnische Ausstattung.
Strategies of digitalisation in the academia teaching: The BMBF-research project 'FAB101'
Project FAB101establishes a research infrastructure of fourexisting German Fab Labsat universities, each run by a research groupwith a different disciplinary background. Over the course of three years, the projectenables in-depth research into the context of the four Fab Labs as well asthe participatory developmentand evaluationof new cooperative practices. FAB101's goals are to systematize and generalize insular solutions e.g. relating to governing a Fab Lab in academia, to develop new and cooperative teaching formats and to foster the integration of Maker-type practices in academic infrastructures in German.
You can find more information (only in German) on the
FAB101 website
.
More information (internal access
)
---
Created by cherek. Last Modification: Wednesday 20 of June, 2018 15:03:42 by abrocker.
---
Sidebar