Getting support for the Vicon system
Table of contents
If you can't solve your problem with the Vicon system by using the
Guide to the Vicon Motion Capturing System
you can use the information on this page to get further support.
Vicon support e-mail account
We have a general e-mail account for contacting Vicon support which should have all the old support cases in it. Have a look there first to see whether your question was already asked before.
Use the following data to access the e-mail account:
e-mail address: or
server for incoming mail: mail.rwth-aachen.de
username:
password: weirs6nags
server for outgoing mail: mail.rwth-aachen.de (Exchange)
Vicon online support
If your question hasn't been asked yet you can access the
Vicon online support
.
You will need an account there as well. Use the following account details:
username:
password: Yd8FyPb0dCIj
password: kw8yDv1IE4xS2Df4
prophysics
The chair didn't actually buy the system from Vicon but from the company
prophysics
. Thus if you have problems you can also contact them to ask for assistance. Have a look at their
team website
to find the person who is most likely to be able to help you.
Björn Schmidt is the one who sold the system to us and we also had contact to Martin Löhrer several times when trying to develop for the Vicon system.
Various Vicon Files.
All the files provided by Vicon are stored on Oliver, at "/Public/Software/Device Dependent Software/VICON" Here you will find the installer for the tracker and the data stream SDK for Mac/Linux/Windows. You can also found documentation on how to use the system and how to develop for it (have a look at the
Vicon Development
site).
Any updates of the SDK or installer need to be requested to prophysics.
License
We have a permanent license of Vicon Tracker program. This includes upgrading to future versions as well. However, we need to request for a new license file annually by the following procedure:
Launch the licensing tool. It should be installed together with Vicon Tracker. This will generate locking criteria as you can see from the following figure.
Send all data (Disk ID, Ethernet Address, Selector, Code) to Vicon support (not prophysics). Use the online support page of Vicon to send that information.
They will send an email to the vicon email account (usually 1 day turnaround). The license file (lservrc without extension) will be attached.
Put that file into Vicon Tracker folder (usually Program files/Vicon/Tracker).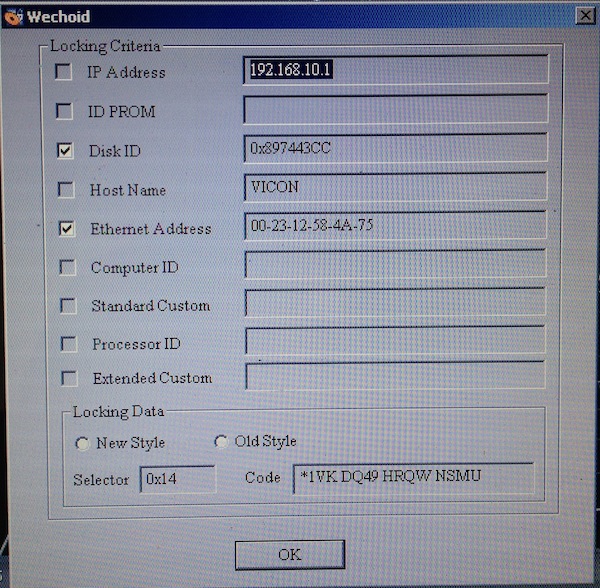 Current license will be expired on 20 March 2014
---
Created by kurz. Last Modification: Monday 15 of June, 2015 08:55:56 by pye.
---
Sidebar