Back to
Tools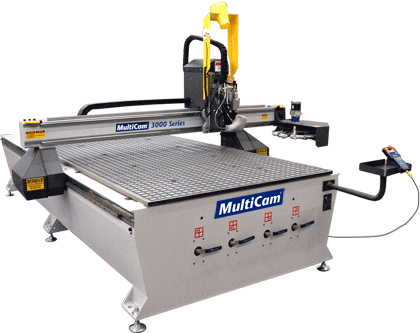 Beginning in February 2012, we can offer access to a large 3-axis CNC router. It's a
MultiCAM 3000 Series CNC Router
with automatic tool changer, MultiCAM Controller, and Ethernet interface to a computer workstation. The system runs AlphaCAM software. It can read 2D vector graphics for planar cutting, and 3D data (DXF, DWG, STL, Blender, and others) for 3D routing (milling). It is located in the Wood Workshop at the Department of Architecture at our university, who have kindly agreed to let us offer access to the machine to interested Fab Lab users. To use the router, make an appointment with
René
online as you would for any other Fab Lab use. Do not contact the architecture department directly; we have agreed to provide a single point of contact to them to get this access for Fab Lab users.
You need to bring your own materials that you wish to process on the router.
The Wood Workshop isn't currently set up to sell you materials.
---
Created by borchers. Last Modification: Tuesday 12 of November, 2013 16:14:21 by bohne.
---
Sidebar