The Media Computing Group
An Endowed Chair of the B-IT Foundation at RWTH Aachen University


interactive. media. research.
Research
Headed by
Prof. Dr. Jan Borchers
, we work in
Media Computing
and
Human-Computer Interaction (HCI)
. Grounded in Computer Science, we develop and study new interaction theories, techniques, and systems in areas like
interactive audio and video streams, ubiquitous computing environments, multitouch tables and interactive surfaces, tangible and wearable user interfaces, Physical Computing, personal digital fabrication, user interfaces for software development,
and
HCI design patterns.
Our goal is to make the Brave New World of interactive technologies useful by making it usable. See our older
Research Overview
, or the research projects listed to your left. Since starting in October 2003, we have become one of Germany's
best-published individual research groups at CHI
, the premier international conference in the field.
Teaching
We offer courses in
Human-Computer Interaction
, both at RWTH and in the international
MSc in Media Informatics
at the
Bonn-Aachen International Center for Information Technology (B-IT Center)
. We teach how people interact with computers and technology, and how computer science can open up new ways of interacting with technology and information. See our
Teaching Overview
, our courses listed to the left, or watch our classes on
iTunes U
!
We provide
Our clients include AirBus, Apple, Bayer, Children's Museum Boston, Handelsblatt, OTIS, Scout24, TEDx, and Telekom.
Our presentations at CHI 2015
Our previous conference presentations:
CHI 2014
,
CHI 2013
,
CHI 2012
,
UIST 2011
,
CHI 2011
Usability for Everybody in 18 Minutes: Prof. Borchers' TEDx Talk
News & Events
Our Fab Lab Aachen will receive 1M€ of funding from the EU and the state of NRW through their Regio.NRW initiative, for research into future user interfaces for personal design and personal fabrication. The work is part of a collaboration headed by the University of Applied Sciences Rhein-Waal, and with the University of Applied Sciences Ruhr-West, to form a digital fabrication competence center over the next three years. The partners will also collaborate with the MIT to offer the FabAcademy curriculum at each of their three locations. Government press release (Sep 9, 2015)
Prof. Jan Borchers' free book Arduino in a Nutshell has been downloaded over 80,000 times. (Jul 28, 2015)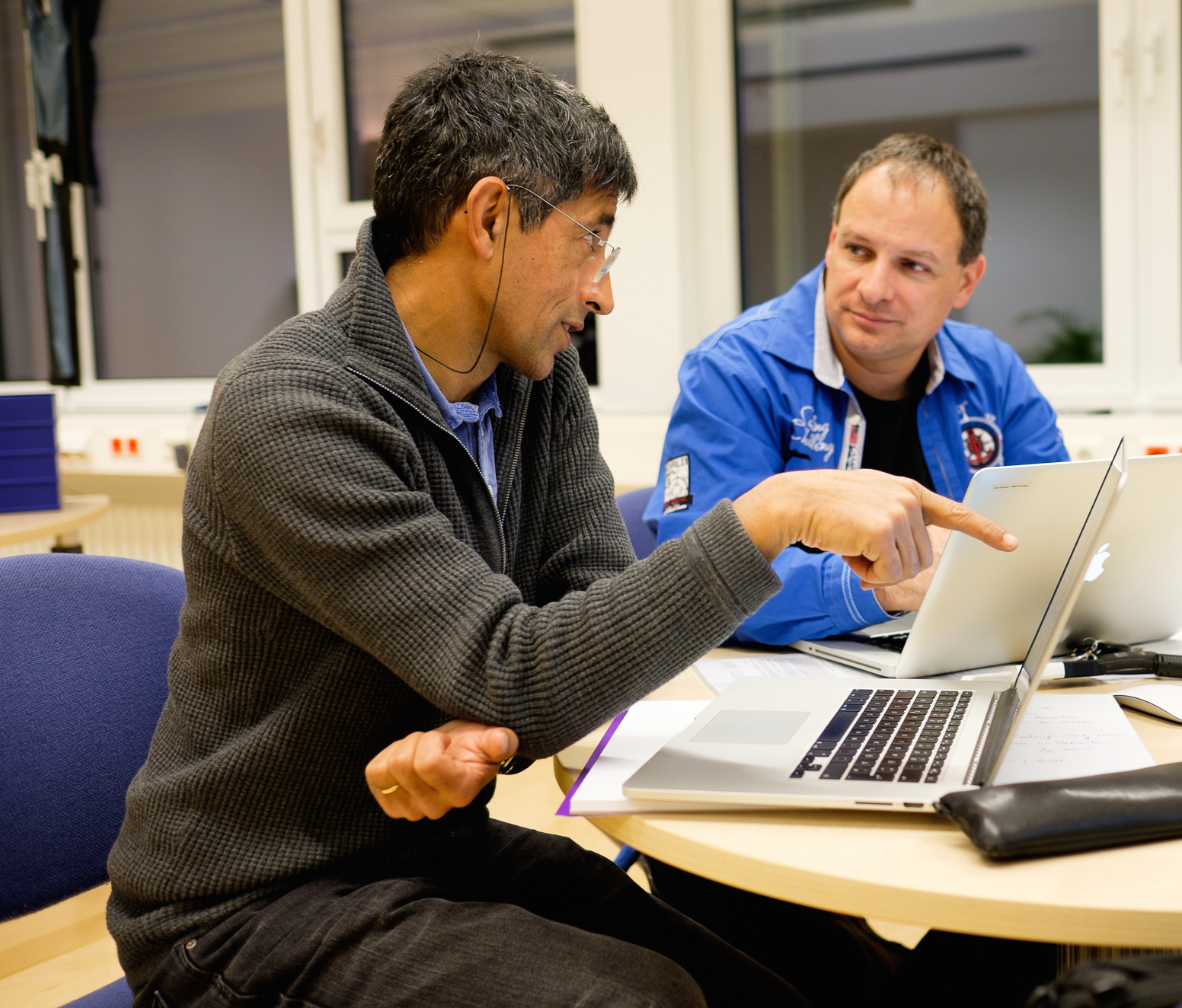 Prof. Jan Borchers speaks on 3D printing at the RWTH Science Night on Nov 8, 2013 (in German).
Prof. Jan Borchers speaks about 3D Printing, Personal Fabrication and Personal Design at the BMBF Future Congress on Technology for Life in Berlin on Oct 22, 2013.
WaterPong wins the ACM UIST 2013 Student Innovation Contest People's Award! With over 240 conference attendees participating in the voting, Water Pong received the First Prize from 26 competing entries at tonight's demo exhibition during the ACM UIST 2013 Conference in St. Andrews. Congratulations to our students Hesham Omran, Nacho Avellino and Jan Zimmermann, who each received a Surface RT tablet from sponsor Microsoft! ACM UIST is the top international conference for research in user interface software and technologies. (Oct 10, 2013)
iEat Mobile, our iPhone App for the RWTH Mensa menu, has been downloaded over 7,000 times! (Sep 10, 2013)
Friedrich Wilhelm Award for Christian Corsten: The Friedrich Wilhelm Foundation selected Christian Corsten (now our PhD student) to be one of the recipients of their Friedrich Wilhelm Award for his Master's Thesis "Co-Optjects: Instant User Interfaces through Everyday Objects". The thesis explores how everyday objects can be "abused" to control devices and technical systems - a pen becomes a clicker for your PowerPoint presentation, the glass on your sofa table a volume knob for your TV. His related paper was just accepted for presentation at the Interactive Tabletops and Surfaces (ITS 2013) conference. Each year, the foundation selects from RWTH's top MSc, PhD and habilitation theses for this award. It comes with a 500€ prize; the ceremony will be on Nov 29 at 5pm in the Aula 1 in the main RWTH building. (Jul 31, 2013)
Prof. Jan Borchers' free book Arduino in a Nutshell has been downloaded over 25,000 times. (Jul 31, 2013)
We are hosting FabLabCon 2013, the First Fab Lab Conference Europe, on Sep 9, 2013.
Dorkbot Aachen turns 4: Join us for celebrating four years of strange projects with electronics, interaction, design and art (July 17, 2013)
Thorsten Karrer defends his PhD thesis on semantic navigation in digital media with distinction - congratulations! (May 24, 2013).
Interested in HCI?
---
Created by system. Last Modification: Thursday 08 of October, 2015 14:28:09 by kraemer.
---
Sidebar